HHA Newsletter - January 2022 - Volume 3

Para traducir este sitio web al español, utilice el botón "traducir" en la parte superior del sitio web.
---
Message from the Executive Director
We welcome 2022 wishing everyone a year of good health, joy and prosperity.

This year I will continue to pursue new opportunities to add quality housing to the City of Hialeah. In 2021 we added 175 Section 8 vouchers, and a brand-new building "Villa Mariposa" housing 83 elderly families. Our goal this year is to continue to work together with our local, state, and federal elected officials to allocate funding for our housing authority's current programs and keep adding affordable housing to our beautiful City. One of our yearly priorities is always to maintain our properties in good condition to provide our residents with good quality housing.

Thank you for reading this quarter's newsletter.

Julio Ponce
Executive Director
---
Message from our newly elected Mayor Esteban "Steve" Bovo
Dear neighbors,

I am humbled and honored by your support.

As Mayor, I consider the Hialeah Housing Authority a pillar of our community, which serves those who have built this city into what it is. These newsletters are an incredible way to highlight the legacy that HHA continues to build. I am happy and blessed to be a part of that.

My administration will work hand in hand with Executive Director Julio Ponce and the Board of Commissioners to ensure the highest quality of life.

Thank you for allowing me to give power to your voice! I am at your service always.

Sincerely,

Esteban Bovo, Jr.
Mayor
2022 Important Dates
| | | |
| --- | --- | --- |
| January 17, 2022 | Martin Luther King, Jr. | -HHA Offices Closed |
| February 14, 2022 | Valentine's Day | |
| February 21, 2022 | President's Day | -HHA Offices Closed |
| March 13, 2022 | Daylight Savings begins | |
| March 17, 2022 | St. Patrick's Day | |
| April 15, 2022 | Good Friday | -HHA Offices Closed |
| April 17, 2022 | Easter Sunday | |
---
HHA in the Community
---
Job, Educations and Resources Fair
The Building Futures Initiative of the Hialeah Housing Authority hosted a Job, Educations and Resources Fair on October 20, 2021. Members of the community were able to speak with community partners to receive information on jobs, education, and professional development.
Thank you to our community partners that were present for the event:
Career Source South Florida
MDCPS Head Start Program
Miami Dade College - Hialeah Campus
Florida International University
Cunano Builders Corp.
MDCPS Technical Colleges
City of Hialeah Police Department
The YWCA
South Florida Institute of Technology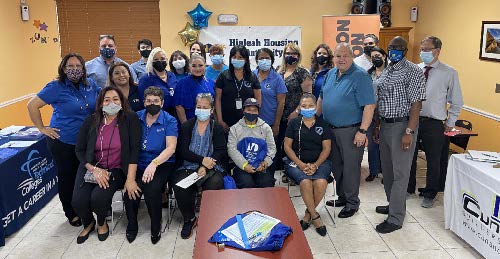 ---
2021 Turkey Drive
On November 17, 2021, our yearly Turkey drive was led by our Executive Director Julio Ponce and our City Mayor Esteban Bovo Jr. Their goal was to serve our community and bring a Thankgiving meal to many of our residents. Bringing joy to our community is of great satisfaction to all HHA staff. Together we can make a difference, that is why we constantly look for generous donors and partner to help our residents.
---
Christmas Toy Drive 2021
On December 16, 2021, the yearly Christmas Toy drive was a total success, bringing joy and smiles to our children between the ages of 0 to 12. We want give thanks to Mayor Esteban Bovo Jr. from the City of Hialeah, Channel 51 and many of the HHA's vendors that with their generous donations made this event memorable residents and staff.
---
Happy Birthday Fara
| | | |
| --- | --- | --- |
| | | December 7, 2021 - Commissioner Fara Alvarez's Birthday. Fara has been a tenant at Vivian Villas for more than 35 years and has always served our community. We thank her for her love, and her endless dedication to the Hialeah Community. |
---
Senior Christmas Party
| | | |
| --- | --- | --- |
| | | On December 9, 2021, together with the City of Hialeah, we celebrated the Holiday Season the "old fashioned way". We welcomed our residents with great music from Los 3 de la Habana band, delicious food and dancing the afternoon away! Our new Mayor Esteban Bovo Jr. joined us along with Senator Manny Diaz, Councilman Jesus Tundidor and Councilman Bryan Calvo. The Mayor gave a remarkable message to the community of the City of Hialeah. |
---
Senior New Year's Party
| | |
| --- | --- |
| On January 13, 2022, the elderly community celebrated the New Year's party in the beautiful Milander Center in the Heart of the City of Hialeah. The Executive Director Julio Ponce, City Mayor Esteban Bovo Jr., and Senator Rene Garcia hosted the first elderly dance for 2022. | |
---
HHA Elderly Services
The recreational and activities program offers trips to different sites all over South Florida. It also offers pick up and drop off for grocery shopping. The activities are by reservation only. If you are interested in the program, please contact the recreation and activities department by calling (305) 257-3502 or (305) 888-9744 Monday thru Friday 8:30 a.m. - 5:00 p.m.
---
COVID-19 Updates
As the COVID-19 continues to be present, we must continue to take precautions to ensure everyone's safety. Mayor Esteban Bovo, Jr. also understands the importance of taking the necessary measures to prevent the spread of COVID-19. At the same time while we protect the health of our residents, Hialeah respects freedom. Hialeah is not planning to slow down the progress and lives of our residents by shutting down. We are however committed to offer all the best options for testing and treatment for all those who need it.
Testing Sites

Benny Babcock Park
651 E 4th Ave
Hialeah, FL 33010

Bucky Dent Park
2250 60 St
Hialeah, FL 33016

No appointment
needed in any location
Monday thru Sunday
8:00 PM - 5:00 PM

Monoclonal Treatment Sites

Benny Babcock Park
651 E 4th Ave
Hialeah, FL 33010

Bucky Dent Park
2250 60 St
Hialeah, FL 33016

Please call the following number to
schedule an appointment for
Monoclonal Treatments:
954.400.0472
Monday thru Sunday 8:00 AM - 5:00 PM
---
Hialeah Housing Authority
Julio Ponce - Executive Director
Maida Gutierrez - Chairperson
Mario Diaz - Vice Chairperson
Barbara Hernandez - Commissioner
Fara Alvarez - Commissioner
Juan Junco - Commissioner
City of Hialeah
Esteban Bovo, Jr - Mayor
Carl Zogby - President
Monica Perez - Vice President
Bryan Calvo - Councilman
Oscar De La Rosa - Councilman
Luis Rodriguez - Councilman
Jacqueline Garcia-Roves - Councilwoman
Jesus Tundidor - Councilman
---
Follow us on Social Media - @HialeahHousing
75 East 6th Street - Hialeah, Florida 33010 - Phone: 305.888.9744 - Fax: 305.887.2216 - www.HialeahHousing.org